Atworth Village website - Atworth Businesses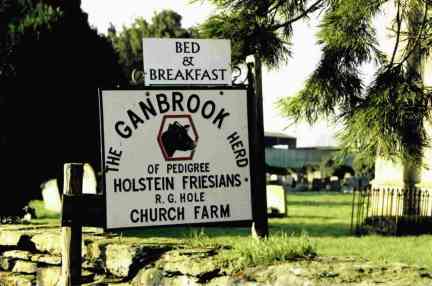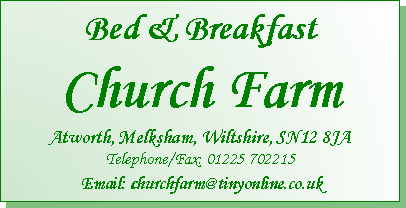 Church Farm Bed & Breakfast
Church Farm is a family run dairy farm in Atworth just off the A365.
It is away from noise & traffic offering Bed & Breakfast accommodation
between April & October.
For full details visit Church Farm website
which contains information, a price list & booking form,
or, email Pam.hole@btinternet.com

Church Farm,
Atworth,
Wiltshire SN12 8JA
Telephone: 01225 702215
---
To return to the Atworth Businesses page, or to the Welcome Page, click on the "Atworth Businesses" or the "Welcome Page" link on the scrollable side panel on the left.
[20061127]
---
This site, and its contents, except where otherwise stated, are copyright KA Spencer, from August 2006 on.
No part of the site may be used elsewhere for any purpose whatsoever without permission in writing.
Comments to: webmaster@atworth.org.uk
[20060801]
---