Welcome to the Atworth Village website!

THE LATEST:

1. Community Police Messaging Service
We have had an update on the Police Community Messaging Service from the Communications Officer of Wiltshire Police:
Have you signed up to Community Messaging?


Wiltshire Police use an email alert system called Community Messaging, also known as Neighbourhood Alert, across Wiltshire and Swindon to provide real time information to subscribing residents and businesses. This is a free service and once subscribed you can choose what sort of alert

to receive and how to receive them. This way the alerts will be tailored specifically

to your interests and delivered by email, text or phone.

Community Messaging allows Wiltshire Police, and carefully selected partners,

to help keep communities better informed about police and crime

updates affecting their local area. The messages can even be sent to individua

l postcodes.
Although Wiltshire Police is the main source of information the system is also

used by Dorset and Wiltshire Fire and Rescue, Wiltshire and Swindon

Neighbourhood Watch, Office of the Police and Crime Commissioner, Gas

Emergency Service and Action Fraud (the national centre for fraud and

cybercrime). All these partners provide relevant information to help keep you safe and secure. You can respond directly to messages and rate the value/relevance of alerts on a scale of 1-5. Your feedback can be most useful to provide first hand intelligence relating to alerts but also to allow us to assess the effectiveness of the system so we keep messages and alerts relevant.


The relevance of alerts is controlled by users through the selection of specific schemes

on the system; Neighbourhood Watch is one popular choice but there are also groups for Community Speed Watch, Youth Clubs and Groups, Church Watch, Horse Watch, Farm Watch and many others. All can be selected or deselected as required and all have the ability for you to feed intelligence to crime prevention partners. It should be emphasised that Community Messaging is not a way of reporting

crimes - always call 999 in an emergency or 101 in a non-emergency situation.


Community Messaging doesn't replace the social media activity that the

force uses to reach out to communities but works alongside

it to make sure that messages are received in a timely way. With changes to the algorithms that the

leading social media platforms use to distribute information

you are possibly seeing far fewer of the posts issued than

you did five years ago. By signing up to Community

Messaging you will be sure to receive the information directly.

www.wiltsmessaging.co.uk



2. Atworth's Community Defibrillator
Many Atworth residents will know that Atworth has a defibrillator for assisting persons who suffer sudden and dangerous abnormal heart rhythms. There is an on-going programme of training for residents in the use of this machine. Details of the training sessions will be placed on the Events Diary page.

3. Atworth's Events Diary
This site receives in excess of 120,000 hits and over 60,000 visitors per annum. In order to make it of maximum use to residents and to potential visitors, and following the demise of the village magazine, I am trying to restart the Events Diary as a service to the village - naturally since ceasing production of the magazine myself, I was no longer in receipt of event details.
Please send in your ad-hoc event details, as well as your annual programme of talks and meetings, to help restart the diary. There are forms for submission of your details on the Events Diary page - see the scrolling panel to the left.
I have had some of the Atworth WI and Atworth History Group programmes; see the Events Diary page by clicking on the link in the left hand sidebar.
NB.: there was a recent change in the History Group programme. See the Events Diary page for details.

4. Atworth Village magazine
I have a limited number of year sets and individual issues of the Atworth Village Magazine available for Atworth residents to purchase and keep. To order, please follow the procedure given in this downloadable document.
Paul Tyler took over the magazine from Kenneth Spencer (editor, 2006-2012) in January 2013. Paul's first four issues were funded (£270pcm) by the residue of funds left from Kenneth's editorial period, but through 2013, income did not keep up with costs, and Paul put the magazine online only during 2014, ceasing all publication early in 2015.
Kenneth is too busy with other things to take the magazine back, but if anyone is willing to take it on, he will help them in any way possible. In 2012, Kenneth published a magazine production guide, for anyone considering taking the magazine on: it is still available here: publishing_guide_avm. A printed magazine of 32 pages and a colour cover costs approximately £320pcm, and Kenneth's experience over six years confirmed the magazine's viability and popularity with advertisers, contributors and readers alike, in the hands of an enthusiastic editor.



All three books are available from .

http://lulu.com/kaspencer

.
All about your Computer and All about Haupterk are also available from retail booksellers, and Amazon.
THE ATWORTH VILLAGE WEBSITE

You are now viewing the Atworth Village website, which in August 2006, replaced the original Atworth website created by Martin Beta.

This website was created by Kenneth Spencer of KA Spencer (Software). The site is paid for by Kenneth, and was maintained in close co-production with the Atworth Village Magazine which Kenneth also edited and published from August 2006 to the end of 2012.

The Atworth Village website contains information on all aspects of village life in Atworth, serving all equally, not just one group, not just one organisation. If your organisation is not represented, simply use the email link below or at the foot of the page to start the process of getting your organisation onto the site.

If you live in Atworth, or have an interest in the village, then it is your site. You will find links to the various sections of the site in the scrolling pane on the left of the page. Just scroll up or down and click on the section that is of interest to you.

Please tell us what you think (webmaster@atworth.org.uk), and what you would like to see on the site.

New messaging service: As we receive a great many emails from persons who once either lived in Atworth, or had a family connection with the village, we have set up a new arrangement for simple messaging . You can leave a brief message, and residents who may regularly read this website may reply to you and provide help in answering your question. You will find the link to the Old Friends pages in the scrolling panel on the left. This service replaces the Family History link, as that can no longer be serviced.
If you are interested in Atworth from an historical perspective, you might like to read the brief Historical Note below. The note was extracted from various communications between the website author, Kenneth Spencer and Mr David Webb of Atworth, and with others.

The Village of Atworth is situated in the west of the county of Wiltshire, approximately equidistant from the town of Melksham which is to its east, and the magnificent Georgian City of Bath, in the county of Somerset, to its west. With a population of about 1300, it lies along the A365 as it passes east from Box to Melksham.
The co-ordinates of the Atworth Clock Tower, which is Atworth's most prominent monument are: N:53°23'33.45" W:2°11'57.27" A:73m.
Although Atworth nestles in a rather idyllic rural setting (somewhat spoiled by the busy A365), it is within easy reach of the Wiltshire market towns of Devizes, Chippenham, Trowbridge, Bradford on Avon, Westbury, Warminster & Frome.
The M4 motorway can be accessed eastwards to/from London via the A350 just north of Chippenham, or westwards to/from Bristol and Cardiff via the A4 and A46 north of Bath.
The famous mapmaker and cartographer John Speed (1552 - 1629) shows Atworth on his maps of Wiltshire. However, it appears with the name "Atford". Later, in 1773, the mapmakers Andrews and Dury, published a map of Wiltshire in which Atworth appeared as both "Atford" and as "Attworth".
The "At" component of the name has been associated with the word "oat", which may imply a role in the service of grain markets of the time.
When or where there may have been a ford in the village seems not be known at present.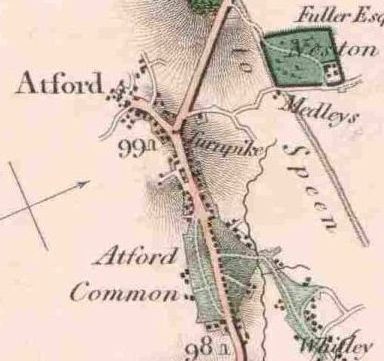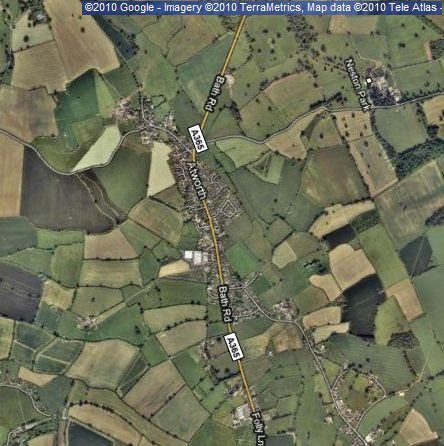 By the time the Ordnance Survey produced its first maps in the early 19th century, the village was almost exclusively referred to as "Atworth".

The change in Atworth ("Atford") between 1817 and 2005 can be seen on the two maps: the first is an extract from Edward Mogg's Survey of the High Roads of England and Wales published in 1817, and the second derived from the satellite image shown on Google Maps.

View the maps more clearly here.


[20180101]
Further Information:
ATWORTH A Little History (Atworth History Group)
The Church of St Michael Atworth A Short History (Prof WH Dowdeswell)
---
Suggested Links:
[20120101]
---
This site, and its contents, except where otherwise stated, are copyright KA Spencer (Software), from August 2006 on.
No part of the site may be used elsewhere for any purpose whatsoever without permission in writing.
Send any comments, or details of issues to: webmaster@atworth.org.uk
[20060801]
---