Churchfields, the Village School, Atworth
NEWS: The Village School, Atworth Travel Plan.
We are pleased to be able to make the school travel plan documents available for download and printing.
Please Note
Do NOT click more than once on a link to a file, and do not attempt to download more than one file at once. Furthermore, do not attempt to access the file by storing a direct link to the file. If you do any of these actions then your access to the entire archive is likely to be blocked.
The documents are:

| | |
| --- | --- |
| SURVEY and RESULTS (2013 ) | |
| 2013 Travel Plan survey document | click here |
| 2013 Travel Plan survey results document | click here |
| 2013 Travel Plan survey raw data document | click here |
| ORIGINAL PLAN (2007) | |
| Travel Plan Document in full | |
| Appendix I (The studies and results) | |
| Appendix II (Objectives/targets of the plan) | |
| Appendix III (Map - Atworth base) | |
| Appendix IV (Map - Monkton Farleigh base) | |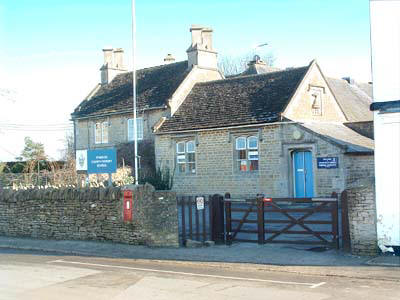 Atworth village school in Bradford Road, was built in 1828. It is now federated with Monkton Farleigh School, but remains a community school.
In December 2005, the 'Federation' of Atworth, and Monkton Farleigh & South Wraxall Schools was agreed, and the school re-named "Churchfields, the Village School" after a public consultation. The school has a status of a Church of England, voluntary controlled Primary School.
The newly-named school was formally opened in its federated form on September 27th, when the Bishop of Salisbury officiated at the ceremony.
School programme for 2008-2009
Read, download or print the School programme School programme 2008
See the summary: Summary programme
Updates to these documents will be posted as they are received.
For details on current activities of the school take a browse round the Churchfields, the Village School website.
---
An excellent book has been written by the Atworth History Group entitled "An Oral History of Education". It gives an interesting historical account of the school's life from inception to 2002. It is available to purchase at a price of £3.00. Details on how to purchase this and other interesting books written by our own History Group, are available on this website - just follow this link to the historygroup page.
---
To return to the Schools and Pre-schools page, or to the Welcome Page, click on the "Schools and Pre-schools" or the "Welcome Page" link on the scrollable side panel on the left.
[20160201]
---
This site, and its contents, except where otherwise stated, are copyright KA Spencer (Software), from August 2006 on.
No part of the site may be used elsewhere for any purpose whatsoever without permission in writing.
Comments to: webmaster@atworth.org.uk
[20060801]
---